The development of information technology greatly affected information source development and contributed to creating a new form of the information source. The emergence of digital information sources as a result of using digital technology by libraries, publishers, and digital information producers played a great role in changing libraries and information producer functions. For example, indexing and abstracting information sources were libraries' functions, but now vendors and aggregators are involved with this function. Libraries also used to manage their own collections. Aggregators play a major role in library e-book spending decisions today. This is largely due to the broad selection, access models, and workflow solutions we are able to provide. In the rest of the article we are going to discuss Aggregators, Types of Aggregators, Advantages of Aggregators, Disadvantages of Aggregators, Importance of Aggregators.
Definition of Aggregators:
The word 'aggregators' means the total obtained by adding items together. One may define aggregation as bringing together in a coherent collection disparate information sources. Library Users in the digital environment want easy access to the full text. Content providers such as aggregators are working with libraries and publishers to achieve this goal. To the user, the term aggregators were taken to mean the aggregation of full-text content. The aggregators usually sell their collection to libraries which were a secondary publishing function. Aggregators make an interaction between the library and publishers and also published documents.

"An aggregators is an individual or entity that gathers, organizes, and classifies things into groups that have similar characteristics."(Business Dictionary)
"A business organization that collates the details of an individual's financial affairs so that the information can be presented on a single website." (wordpanda.net)
Types of Aggregators:
Today there are different types of aggregators accessible through the web. Mentionable types of aggregators are given below;
i. Hosting Aggregators
ii. Gateway Aggregators
iii. Full-Text Aggregators
Firstly, there are those companies whose primary focus is to provide a hosting service for publishers – the content host. Secondly, there are those who index or categorize disparate content on other content host services – the gateways. And lastly the 'traditional' aggregators of licensed full-text content – the full-text aggregators. Web-based aggregators are online applications available through the internet and made accessible anywhere to a user with an internet connection. Under web-based aggregators, there are two subsets: personal web-based aggregators, which display user-defined content; and planet sites, which aggregate community blogs in a centralized location. Now we are going to discuss these types of aggregators;
i. Hosting Aggregators: We have found a lot of hosting aggregators such as; Ovid, SilverPlatter, Dialog, CatchWord, Highwire Press, Allen Press, the American Institute of Physics, the hosting services of Ingenta and so on.
OVID:
Full-text indexing.

Metadata for over 100 million scholarly e-resources: over 1.1 million unique content sets (organized into single knowledge base), 53,000 publisher and aggregator collections, and 45,000 unique open-access products containing roughly 7 million records.

Search results organized automatically into customization subjects.

Instant access to the original content.

User customization: saved searches, bookmarks, Alerts, and more.

Usage statistics is available in real-time, daily, and weekly.

Document ordering and delivery management tools.

Implementation, customization, and maintenance support.

Better insight into users' search and content usage behavior and visibility of library e-resources.

Daily updates of the index and knowledge base.

Optimized for desktop or mobile devices.

Available in 4 languages—English, French, German, and Spanish.
DIALOG:
Dialog offers organizations the ability to retrieve data from more than 1.4 billion records of information, accessible via the Internet or through delivery to enterprise intranets in such fields as business, science, engineering, finance, and law. As part of the Deep Web, which is estimated to be 500 times larger than the content accessible via Web search engines, Dialog products offer depth and breadth of content coupled with the ability to search with precision and speed. The Dialog collection of over 900 databases handles more than 700,000 searches and delivers over 17 million document page views per month.
ii. Gateway Aggregators: Gateway aggregators mainly provides a link. Some gateway aggregators are SwetsNet, ISI, BIOSIS, CrossRef, etc.
ISI:
Aggregators suffer from media bias which is often implemented internationally. At this point, while ISI indexing is cover-to-cover, including all the significant content in each issue, the publisher may not consider all these items important enough for reference linking. Actually ISI has been working incorporation with the national library. A recent, informal survey conducted with ISI's major academic customers revealed that all the respondents considered completeness. Some Gateway aggregators are:
Subscription Agencies as Gateway Service Providers.

Traditional Abstracting & Indexing Producers/Publisher.

Third-Party Link Service Provider.
iii. Full-Text Aggregators: Some full-text aggregators are: Annual Lease Access models – ProQuest, EBSCO.
ProQuest:
ProQuest brings together content from thousands of sources to provide the ultimate cross-disciplinary research tools. Researchers can search individual databases for targeted research or search all at once to find relevant results and information across disciplines, leveraging leading search technology. ProQuest provides solutions, applications, and products for libraries. Its resources and tools support research and learning, publishing and dissemination, and the acquisition, management, and discovery of library collections.ProQuest provides seamless access to, and navigation of, more than 125 billion digital pages of the world's scholarship, delivering it to the desktop and into the workflow of researchers in multiple fields, from arts, literature, and social science to science, technology, and medicine. ProQuest's content pools are available through libraries of all types and include the world's largest digital newspaper archive; periodical databases comprising the output of more than 9,000 titles and spanning more than 500 years; a dissertation collection, and other scholarly collections. Since 1938, ProQuest has worked with the worldwide publishing community to preserve and provide access to information.
EBSCO:
One of the most prominent aggregators has serviced the library industry for more than 60 years. EBSCO Information Services is a service provider for e-journals, e-journal and e-book packages, and print subscriptions. In addition, they produce a suite of e-resource management tools, full-text and secondary databases, and related services for all types of libraries and research organizations. More than half of the subscriptions handled by EBSCO have an electronic component. EBSCO's solutions include systems to consolidate ordering, invoicing, claiming, and renewals as well as assistance with licensing and registration requirements for e-journal and e-package customers worldwide.
It's 32 regional offices, located in 21 countries, serve customers in more than 200 countries. In its seventh decade of business, EBSCO has relationships with more than 79,000 publishers globally. Approximately 250 full text and secondary databases are made available via EBSCO host. A customizable, intuitive search experience, EBSCO host is designed to cater to various user needs and preferences at every level of research.
Advantages of Aggregators: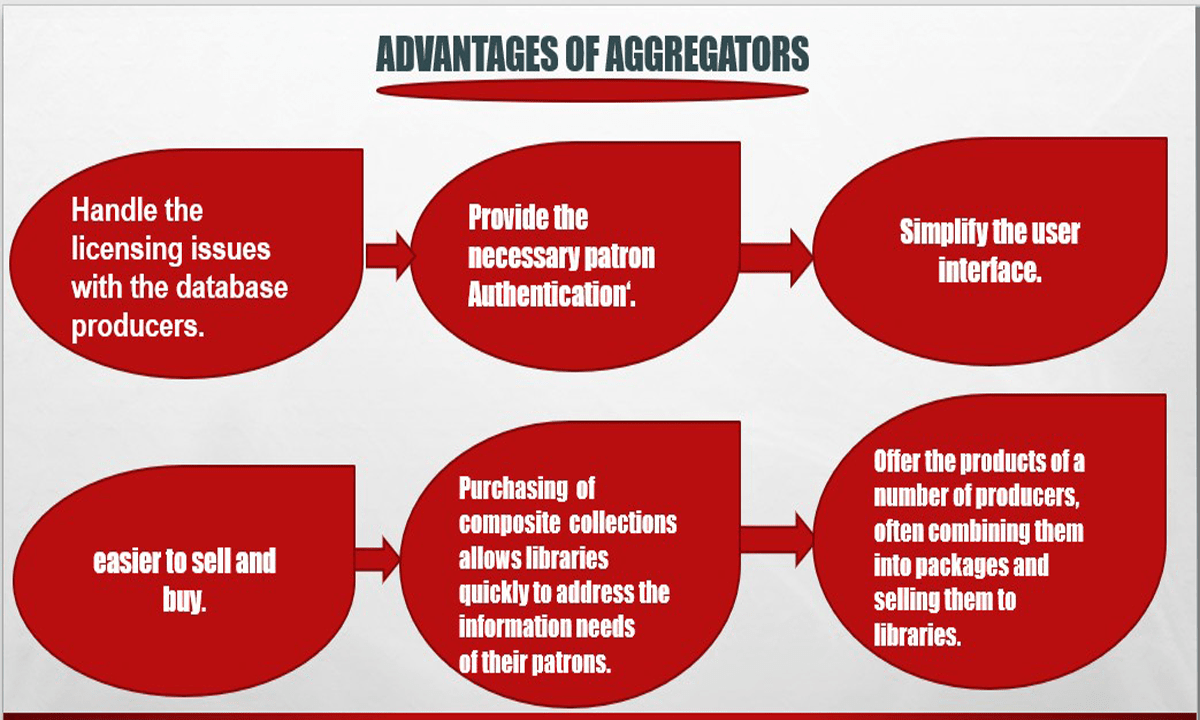 Disadvantages of Aggregators: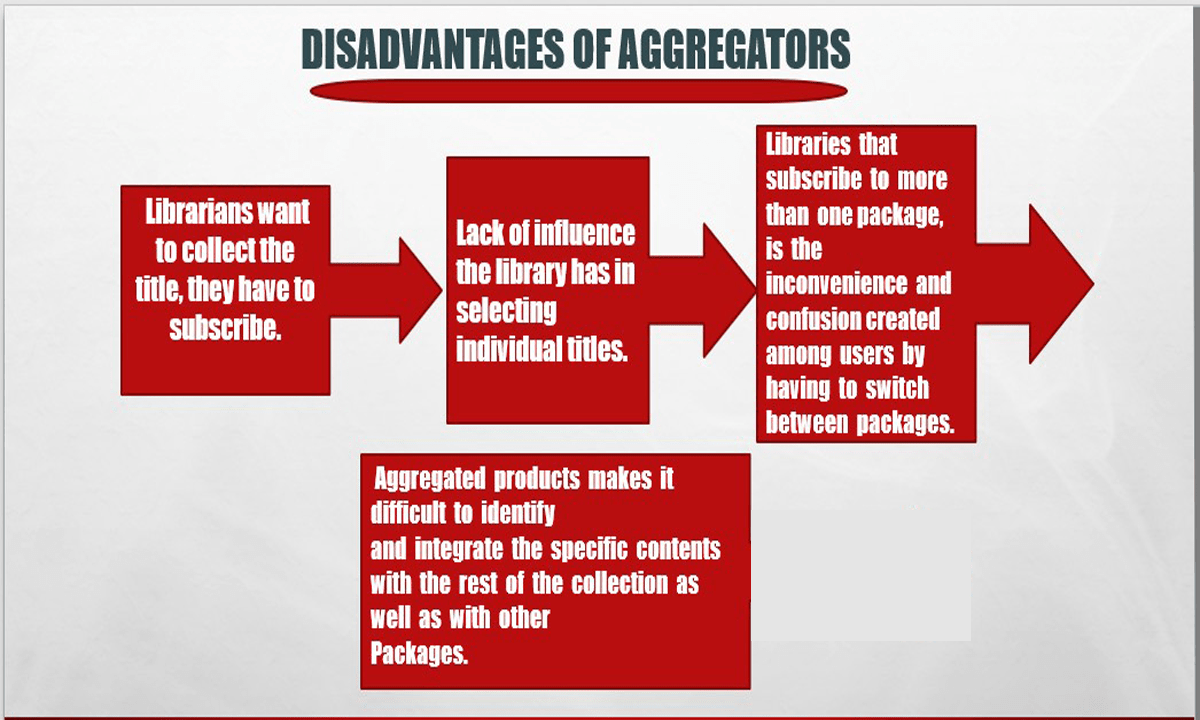 Importance of Aggregators:
After analyzing various types of aggregators we got several importance of aggregators which are given below;
Aggregators have played an important role and their services have been based on libraries.

Aggregators have performed functions such as handling orders, billing, payments, renewals, and cancellations.

Aggregators have challenged the librarians' role in collection development.

The emergence of aggregators packages has had a considerable impact on the role of the collection manager in the library.

Aggregators maintain the customer-supplier relationship with publishers.

The traditional role of aggregators is challenged by electronic publishing both libraries and publishers.

Aggregators help small publishers to gain a very much careful deal-market.

Aggregators also offer libraries a great range of choices with different access models available for different subsets of content.

Aggregators increase options for libraries and publishers.

Aggregators facilitate the diversity of publications from large numbers of publications.

Many large libraries are themselves becoming aggregators Users need an integrated interface that allows them to search and access quickly any document they seek in an electronic environment.
Analysis of the varying roles of companies collectively termed aggregators illuminates the distinctively different business models of the three types of aggregators. An aggregator is an entity that transparently collects and analyzes information from different data sources. In the process, the aggregator resolves the semantic and contextual differences in the information. Based on the results included in this study, it is clear that aggregators provide a service of high value to academic libraries. Currently, librarians are very focused on the long term conservation of their collection. Thus we have developed a business case for aggregators, shown the emergence of this model through some real case sand at the same time we continue to develop technologies that will enable aggregation. So it is right to say aggregators played a vital role in the development of Library and information resources.
References:
https://pdfs.semanticscholar.org/79c2/0218e68b9277793e4565c697be8f1d0da7b9.pdf

http://onlinelibrary.wiley.com/doi/10.1087/095315101753141383/pdf

http://dictionary.cambridge.org/dictionary/english/aggregator

http://www.businessdictionary.com/definition/aggregator.html

https://www.contentplum.com/blog/social-media-aggregator

http://eprints.rclis.org/11331/1/The_Importance_of_Aggregators_for_Libraries_in_the_Digital%E2%80%A6.pdf