A Sample of Business Model: Libsapp
Our product is connected with Library service to remote access
Our software will design on library services under the network environment.
Product Description:
Name of the Product – Libsapp
Libsapp is a software that is creating interlink among those libraries to better service than other existing software.
Service is providing relevant information which is connecting two or more libraries, online & offline.
Services that are offered through the Libsapp –

Features in both English & Bengali.
To create interlinks in different libraries.
Easily Customization.
Special Features ( translation Services).
FAQ ( Frequently Asked Question) & Feedback.
Regular Updated.
Clients of different libraries.
Why Market in Rajshahi?
Resourceful & Interlink.
Rajshahi University, RUET, RMC, Rajshahi College & so on.
Market Situation:
Libsapp is new & provide better service than existing software.
The most popular software that can be our main competitors is the software Libsapp as well as KOHA.
We don't consider this app(KOHA) as our main competitors because It doesn't offer the same service as we do.
Bases for Segmenting Consumer Markets:
i. Demographic: Educational City but both of Libraries are not interconnected to build up their services, huge collection, level of education.
ii. Psychographic:
Busy people, Environmental problems.
Value: Time, Health, Hobby.
iii. Behavioral:
Max User: Teacher, Researchers.
Mid User: students, old people, children.
SWOT Analysis:
a. Strengths:
Quick & Easily Customization.
Easy to user Understandable
Special Features(Translation Service)
Advice, Recommendations & Discussion
b. Weakness:
Brand
Figure
Cost
Limited Geography
c. Opportunities:
To attract more users.
To create interlink different libraries.
To provide Bangla & English features.
To provide translation service.
d. Threats:
Competition
User Behavior (Aversion)
Hacking
Technical Problem
Target Groups:
Level 1:
Library Administration
Library Staff
Level 2:
Teachers
Researcher
Students
Book Lovers
Concern about library services (Feedback)
Charity Person
Targeting:
Our Strategy is undifferentiated marketing
We are often for questions, discussions, comments and in needed complains.
Libsapp is always open for everybody who are interested in library.
Connection with Library users: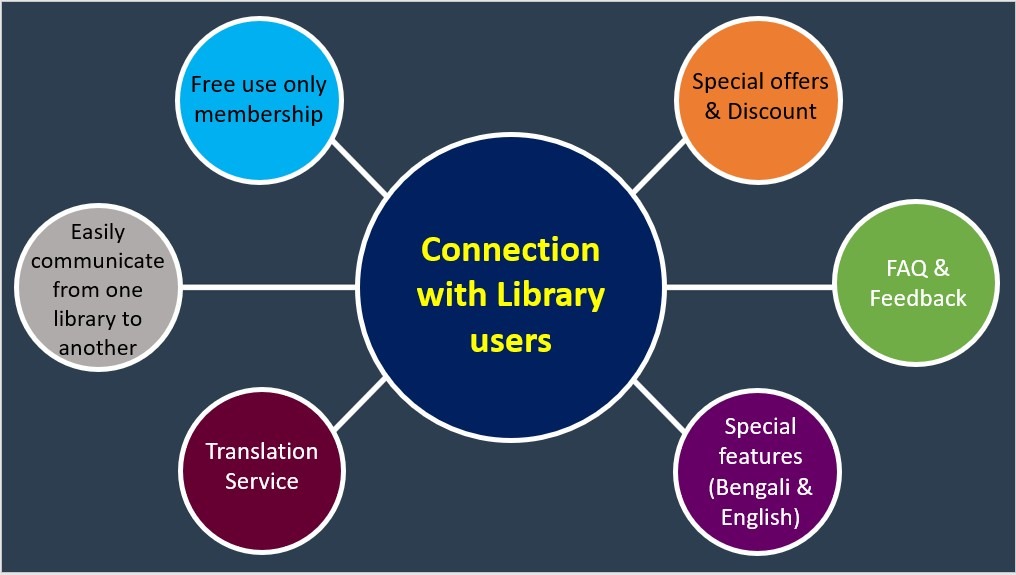 You can get A Sample of Business Model: Libsapp in the being file:
Download File:
⇓
A Sample of Business Model – Libsapp